Everything you need to manage and enforce innovation and ideas in one place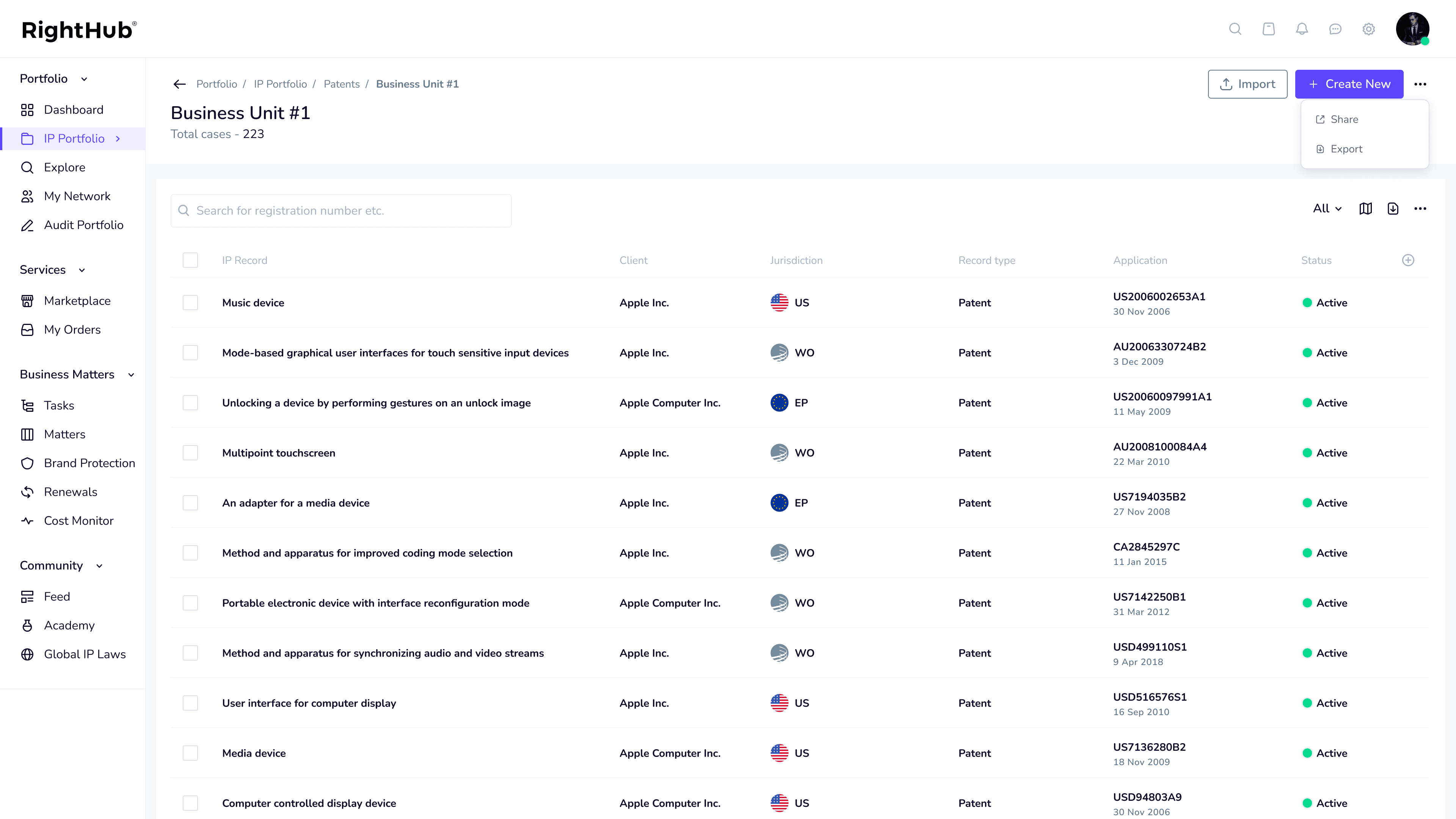 RightHub is building the platform for management and enforcement of innovation and ideas -
We are empowering IP Owners to take control of their assets and experience a new way of working collaboratively with Law Firms across the globe, sharing data and working smarter, in one place.
A constantly growing and evolving network of IP professionals
RightHub is building a collaborative and inclusive platform that allows you to interact and order services from law firms or service providers all over the world.

If desired, you can continue to work with your existing agents. Just invite them with one click and then you can both benefit from the collaborative workflows we offer.
We clarify potential holes in you IP coverage like never before -
We identify areas of your IP that need attention
Join the journey.
At RightHub we work extremely hard to provide tools that allow you to excel in your workplace. With best in class services and trusted partners we can help you no matter what stage of your IP.
Request a demo
See how much you could save with our ROI calculator
See how RightHub is opening up the world of IP transactions and how much you could be saving by managing your IP in a more transparent manner.
Request it here
Global IP Laws at your fingertips.
Start protecting your online brand image
Set up a free online call with our Brand Protection Team and see how people are stealing your brand image online and how we are helping businesses generate more income.
Manage your Intellectual Property assets in a way that works for you
RightHub enables you to manage your IP assets in a moder operating system that lets you continue to work with your existing, its as easy as sending them a link to a case or instruction.
You the innovators and creators are driving change -
We provide the infrastructure to make working with IP less complicated, easier to manage and consume.
Academy
Want to learn more about IP?
Want to learn more about IP?
Know what matters in IP: Improve your theoretical knowledge about all areas of intellectual property combined with valuable tips and tricks for your practice.

The Academy serves as a center for IP knowledge, learning and development, and research and publication.

All data regarding renewals is always available in real-time including official fees and local fees from agents worldwide, allowing you to have control of your renewal budget.

How do I protect Ideas?

How do proceedings before the Patent and Trademark Offices work?

How do I litigate IP rights?
Talk to an expert
Community
With over 23k professionals all over the globe, we make sure that you can protect your IP assets anywhere. Keep up to date with the latest IP news and start connecting with like minded individuals.
A global network at your fingertips
Find the right IP professionals for you
Let's build the new industry standard together -
RightHub enables IP owners, be they individuals or companies to access the relevant IP services they need easily, efficiently and transparently